Our first day in Asheville, we had a pleasant chat with our next door neighbor.  She welcomed us, the dogs welcomed us … by christening our yard through the chain-link fence–it's what dogs do, right?
As we headed back inside, our neighbor said, "The last people who lived in your house brought the garbage out all through the week.  So…we have bears, a mama and three cubs.  You can hear them at night going up and down the street, foraging all the garbage cans that have food in them.  Just so you know, we put our food garbage out the morning the garbage truck comes.  Because of the bears.  Welcome to the neighborhood!"
Of course, the only word that stuck in our minds was:  "BEARS?!"  Being less than a minute from the Parkway…APPARENTLY, you're going to have bears.  And bears– especially mamas with three cubs–are going to forage for food.  It's what bears do, right?
Lent always begins with some version of Jesus' 40 days in the wilderness.  Every third year, we also get today's text from Genesis–the covenant-making between God and Noah and the rest of creation after the flood.  That covenant says, in part, 'I hereby establish my covenant with you and with your descendants after you, and with every living creature that is with you–birds, cattle, and Earth's wildlife–everything that came out of the ark, everything that lives on Earth."  By these words, God commits to remaining in relationship with all creation.
So, here's an interesting link between this covenant scene in Genesis and the story about Jesus' sojourn in the wilderness:  they both involve wild beasts.  In Genesis, it's all the beasts on the ark, all creation.  In Mark's account of Jesus' 40 days in the wilderness, it says that "Immediately, the Spirit drove Jesus out into the wilderness, and he remained there for forty days, and was tempted by Satan.  He was with the wild beasts, and the angels looked after him."
Mark is the only Gospel writer who mentions the wild beasts.  Matthew and Luke's accounts go straight into the three big temptations presented by the Tempter…but they don't mention the wild beasts at all.  And yet Mark, by far the least wordy of all the Gospel writers, takes the time to mention them.  I wonder why?
Maybe the Gospel writer's neighbor had just told him or her about a mother bear and 3 cubs foraging the neighborhood for food.  Could be…could be….Or….
I've been thinking about the way our neighbor's dogs welcomed us.  Christening things is just what dogs do, isn't it?  Foraging for food is just what bears do.  Any creature–especially a wild one—just does what it was created to do.  It doesn't think about it.  It doesn't wonder how others will feel about what it does.  It simply– un-self-consciously–does what it does.
Maybe that's why Mark gives a cameo appearance to the "wild beasts" in this account of Jesus' time in the wilderness.  Coming on the heels as it does of Jesus' baptism, that might make sense.  In Jesus' baptism, as we heard, immediately after emerging from the baptismal waters, Jesus hears these words:  "You are my child, my beloved.  With you I am well-pleased."  Baptism is grounded in this idea that we are deeply loved by God, not for anything we've done, but simply for who we are.  Period.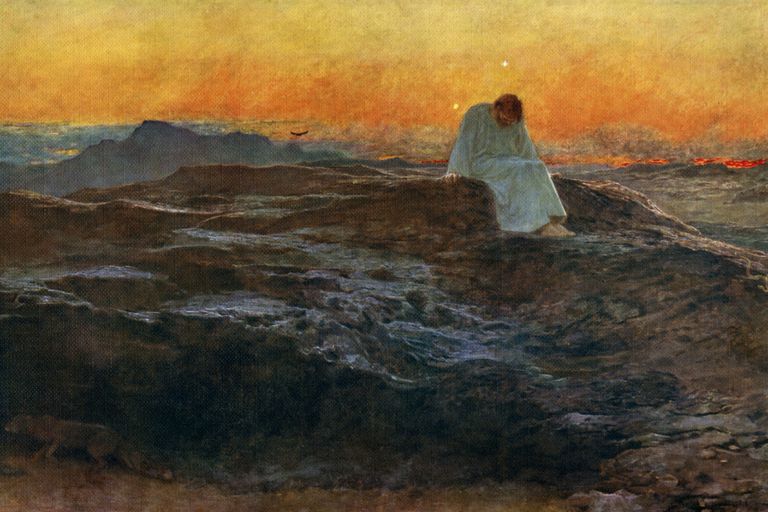 Human beings…I guess we're okay.  We're kind of funny sometimes; we've been known to make each other laugh.  Occasionally, we do some amazingly kind and compassionate things.
At the same time, though, human beings are the only creatures in all creation who have the capacity to choose to be who we are not.
Have you ever done that?  Chosen to be someone you're not?  It's a painful way to live, isn't it?  To stifle some vital part of who you are?  Maybe my neighbor could have taught her dogs to carefully craft a sweet welcome note to Allen and me, signing it with a paw print.  But that's not what dogs do, is it?  No, dogs christen things.
As we enter this season of Lent, then, perhaps the wild beasts in today's Scripture passages can remind us that being who we are created to be is the first task of Lent.  If we are to do the work we're called by God to do, we must begin by being who God created us to be… freely, un-self-consciously, unapologetically.
Being your pastor the last two and a half weeks has been a real kick.  You all care about this church!  You also care about the world outside this church.  Announce a press conference to offer support to immigrants, especially Dreamers (who still need our active support, by the way)?  You're there!  Actively engaging in creation justice?  Check!  Serving the poor and food insecure through Pritchard Park breakfasts, Room in the Inn, providing food to elementary school students, Laundry Love?  Check, check, check, and check.  We're there for all of that.
Because I hear and see just how active we are as a community of Jesus' followers, because the minute an initiative is announced, many of you respond immediately with, "I'm there!" other conversations I've had have come as a bit of a surprise.  "I've been trying to find my calling."  "I think I'm finally starting to live into my calling."  "I'm trying to figure out where I plug in at FCUCC and what I need to be doing to act the world into wellbeing."
These comments have surprised me a little, AND they have filled me with tremendous hope.  Wow!  You get it!  Calling isn't just something young people work to discern, then spend the rest of their lives living out.  Calling requires a lifetime of discernment.  At any given moment, as circumstances change, our calling also can change.  The task of prayer–and of seasons of reflection, like Lent–is to take time, to become still, to open ourselves to our deepest longings, to become reacquainted with who we are created by God to be.
Based on what I've experienced thus far in two and a half weeks as your pastor, I'm pretty sure we're going to spend a lot of time outside those pretty red doors doing what we can to act the world into wellbeing.  That's terrific.  I encourage us, though, during this season of Lent, to do a little reflecting, a little praying, a little breathing in.  In this way, I suspect we'll get some clarity about who we are so that, when it comes time to hit the streets, we'll know without a doubt who we are and can engage in that work with all the resources we have.
As we begin this reflective Lenten journey, we might learn a thing or two from weasels.  Weasels are wild.  As wild creatures, weasels do what nature has designed them to do–they hunt prey.  Here's how they do it.  Disclaimer–this will be momentarily icky, but stay with me.  The point will be well-made.  I promise.  Here's how nature has designed weasels to kill their prey–they bite them (rabbits, mice, birds) on the neck and don't let go until they've dragged the carcass back to their nest.
In an essay titled, "Living Like Weasels," Annie Dillard tells of a man "who shot an eagle out of the sky.  The man examined the eagle and found the dry skull of a weasel fixed by the jaws to his throat.  The supposition is that the eagle had pounced on the weasel and the weasel swiveled and bit as instinct taught him, tooth to neck, and nearly won."  There's no telling how long that skull had been dangling from the eagle's throat.
Dillard finds in the weasel's single-minded focus inspiration for her own life.  "We can live any way we want," she writes.  "People take vows of poverty, chastity, and obedience–even of silence–by choice.  The thing is to stalk your calling in a certain skilled and supple way, to locate the most tender and live spot and plug into that pulse.
"I think it would be well, and proper, and obedient, and pure," she says, "to grasp your one necessity and not let it go, to dangle from it limp wherever it takes you.  Then even death, where you're going no matter how you live, cannot you part."  (Dillard, Annie.  "Living Like Weasels," Teaching a Stone to Talk:  Expeditions and Encounters, 65-70.)
Stalk our calling…now there's an image.  What in your life have you dug your teeth into completely, single-mindedly?  How will you—you, with all your gifts and quirks and passion and energy—how will you act the world into wellbeing?  What unique gift do you have to offer in the work of healing the world?
As we unwrap this Lenten gift of reflection, this time of breathing in, this time of stalking our calling, hear again the words of Mary Oliver–  Wild Geese.
You do not have to be good.
You do not have to walk on your knees
For a hundred miles through the desert repenting.
You only have to let the soft animal of your body
Love what it loves.
Tell me about despair, yours, and I will tell you mine.
Meanwhile the world goes on.
Meanwhile the sun and the clear pebbles of the rain
Are moving across the landscapes,
Over the prairies and the deep trees,
The mountains and the rivers.
Meanwhile the wild geese, high in the clean blue air,
Are heading home again.
Whoever you are, no matter how lonely,
The world offers itself to your imagination,
Calls to you like the wild geese, harsh and exciting–
Over and over, announcing your place
In the family of things.
"Let the soft animal of your body love what it loves…and learn your place in the family of things."
In the name of our God, who creates us, redeems us, sustains us, and hopes for our wholeness.  Amen.
Kimberleigh Buchanan  ©2018