(Sing)  I love the mountains, I love the rolling hills, I love the flowers, I love the daffodils, I love the fireside when all the lights are low…
I do love the mountains!  Shortly after we finished the decision-making process about my call to be your pastor, it hit me–I'm going to live in the mountains!
I have not been disappointed.  Such beauty!  At the end of every street is a postcard picture just waiting to be snapped.  Each morning on the way to work, I gauge the clarity and color of the Smokies.  And getting lost on the way back from a home visit?  It's like a vacation!
When I come to work via 240, there's one spot with a clear view of downtown silhouetted against the mountains to the west.  That glimpse takes my breath away.  What is it about mountains that takes our breath away?  What makes mountains beautiful?
I know.  Analyzing beauty kills it.  But still…I wonder.  Is it the gradation of color, each successive range slightly lighter than the one before?  Is it the gentle roundness of ancient hills?  Is it some innate memory of the ecological turmoil that birthed them?
Or maybe it's the abundance of trees, blankets of blue-green—and soon oranges, reds, and yellows—draped across the landscape.  Or the rivers and streams that thread their way through the valleys.  Or the realization that every place your gaze touches teems with life.
What makes mountains beautiful? Why do people flock here to vacation and retire?  Why are homes with a view valued more highly than others?  I suspect I'll always wonder what makes mountains beautiful…perhaps it is their mystery most of all that draws me in.
Even as I wonder, though, I'm struck by the privilege of my gaze.  Certainly, anyone who lives in Asheville can see the beauty of the mountains…but to sit and contemplate their beauty, not to mention to contemplate contemplating their beauty…that is a luxurious act.
"I Love the Mountains" isn't just a great children's song; it's also the name of an organization whose mission is to stop the practice of mountaintop removal, a coal-mining method that began in Appalachia in the 1970s.  The name describes the practice well.  Using dynamite, cranes, and other large machinery, up to 500 feet of a mountain's summit is removed and dumped in neighboring valleys.  Once the mountaintop is cleared, there's access to nearly all of the coal in a seam.  Because it's more efficient and employs fewer workers, coal companies increasingly use this mining method.
Does mountaintop removal ruin the beauty of the mountains?  Absolutely.  (Check out the back of your bulletin.)  But its effects run much deeper.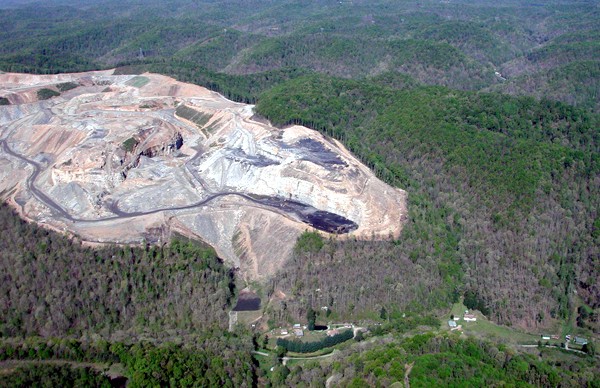 In a book called Lost Mountain: A Year in the Vanishing Wilderness; Radical Strip Mining and the Devastation of Appalachia, author Erik Reece chronicles the destruction of a single mountain—ironically named Lost Mountain—to mountaintop removal.  He talks about the cost of coal.  On the face of it, coal is cheap to produce.  But when you factor in the devastating effects—both to the environment and to the inhabitants of the mountains—the cost is very high.
Teri Blanton, a fourth generation inhabitant of Dayhoit in Harlan County, Kentucky, moved out of the area in the 1970s to start a family.  She returned to Dayhoit in 1981 with her two children.  Speaking of the unchecked release of poisons into the environment caused by mountaintop removal, Blanton says, "I moved back to Harlan County thinking I was bringing my children home to a safe place.  Instead I brought them back to a chemical wasteland."
Last week, we explored the connection between Earth care and poverty, particularly as it relates to Hurricane Florence.  And Katrina.  And Harvey.  And Maria.  The title of a blog post this week summarizes the issue well: "North Carolina's Problem Isn't Florence; It's Poverty:  The floodplains read like maps of economic inequality."
It's true, isn't it?  No matter where on Earth you live, the wealthier you are, the easier it is to distance yourself from environmentally compromised places.  As author Guy Davenport once pointedly wrote, "Distance negates responsibility."  (LM, 676)  As she showed author Erik Reese around Dayhoit, Kentucky, Teri Blanton pointed to house after house and said, "Everyone in that house died of cancer."  Few people in the community make it past the age of 55.  In too many places, it is the most vulnerable who bear the brunt of environmental breakdowns.
In today's word from Isaiah, God covenants to create new heavens and a new Earth.  It's meant as a metaphor, but it's one of those passages you'd like to take literally.  The way things are going, it would be nice if God just started over, wouldn't it?
But for Isaiah, this new heavens and Earth thing is an image.  Images and metaphors are the currency of prophets.  Their job is to understand the history and decisions that have led to the current circumstances.  Then, based on those observations, they name, first, what will happen if things don't change, and then what could happen if the people start living toward a new future.  For the Hebrew prophets, the most common cause of the dire straits people find themselves in is unjust practices against the poor.  There's something that rings true about that, doesn't it?  When we forget about—or exploit—the poor, civil society crumbles.
So, what does this new world God is creating look like?  According to Isaiah, it's a place with no weeping or cries of distress…a place where no one dies prematurely.  The world of which God dreams is a place where people will live in houses they build.
Sometimes preachers go searching for sermon illustrations, and sometimes the illustrations come find us.  That's what happened to me this week when I got a phone call from Andy Barnett, Executive Director of Asheville Habitat for Humanity.  He invited me to participate in a clergy Habitat build this past Friday.  I told him I didn't really know how to do anything related to building a house.  He graciously said, "That's what we're counting on."
Though I have long appreciated the work of Habitat, I've never worked on a house.  I jumped at the chance to participate.
First, let me say, those Habitat folks are very brave to ask a bunch of clergy to build houses.  We're great at preaching about building—"Unless God builds the house, those who build it labor in vain!"  We're also great at walking around work sites encouraging congregants as they work.  "Good work, friend.  God bless you!"              Actually having us build?  Very brave.
But we did it!  We were, of course, sure to get photographic evidence—hence, the picture you saw of me painting a door in Friday's newsletter.  Nancy Sehested's crew over at Circle of Mercy got a different picture of her.  On the way to morning break, Nancy said, "Here, Kim.  Take a picture of me with this drill.  My people are never going to believe this!"
Meeting, visiting, and working with clergy colleagues from across the city was loads of fun.  And raising the wall on one house—that was so cool!  And everybody signing the studs of the wall…that was cool too.  If you're able to participate in next Saturday's build (you can work Pride on Sunday), you'll be working on the same house we raised the wall on yesterday.
Every aspect of the process at Habitat is amazing and fun and fulfilling.  The part that really gets you, though, is meeting and working alongside the homeowners.  Here's how the process works.  Generous donors purchase the lot on which the house is built.  When a family is selected for a home, each able-bodied adult who will live in the house pours 200 hours of sweat equity into the home.  That sweat equity is their down payment.  Once the house is completed, the family moves in and begins paying their interest-free mortgage.
For my part, I painted interior doors in Eva's house.  On a tour through the house, Eva gave me pointers on how to fill in nail holes on the trim with putty.  Oh, the pride in her eyes!  We also met three other families—Shequita and her two children; Yuri, Galina, and Galina's mother, who immigrated from Khazakstan; and Tariqua and her two children, who will be living in the interfaith house whose front wall we raised.
On the whole, those of us gathered here today live closer to the mountaintops…  We live in nice homes far removed from the coal fields in other parts of Appalachia.  My intent in drawing attention to the divide is not heap guilt on anybody.  Not at all.
I came across a prayer this week that perfectly captures what I'm trying to say:  "Gracious God, put our fullness at the service of those who are empty."  That's what I think Isaiah is suggesting.  If the world of which God dreams is to become reality, those of us who are "full" have the real potential—and calling—to serve those who are "empty."
So, you see, distance doesn't have to negate our responsibility.  Among the proudest folks present on Friday were the couple who purchased the land on which Tariqua's house—the interfaith build—is going up.  Perhaps the most striking thing about Habitat for Humanity is just how mutual everything is.  People bring whatever they have—money, sweat, the need for a home—and they work together so that the people who build the houses can live in them.
When I first saw the scripture text for today's mountain themed service, I had to look hard for the mountain part.  Did you catch it?  Yeah.  It's at the end.  "Nothing will destroy on all my holy mountain."  See?  When people say of our mountains, "It's God's country," that's literally true!  The world of which God dreams is on a mountain…which means that all of us mountain dwellers are well positioned to help make God's dreams come true.
How will you use your fullness to serve those who are empty?
In the name of our God, who creates us, redeems us, sustains us, and hopes for our wholeness.  Amen.
Kimberleigh Buchanan  ©2018