When I made the switch from the Baptists to the UCC, there was only one theological issue I had to work through–infant baptism.  How many Baptists do we have in the room?  Disciples?  Both Baptists and Disciples practice believer's baptism.  That means you're only baptized after you consciously decide to follow the way of Jesus.  In the conservative Baptist churches I grew up in, infant baptism was anathema.  How can a baby decide to follow Jesus?
So, I spent some time thinking and praying about the practice of infant baptism.  When I read the liturgy in the Book of Worship, especially the part about the church claiming the child and promising to help the parents raise the child in the Christian faith until the child could choose—or not choose—the path for themselves, I thought, This is a no brainer.  The greater emphasis on the community in infant baptism really appealed to me.
That's true, in part, because it took me a while to get the hang of believer's baptism.  My first baptism happened in a Methodist church when I was 12 or so.  Sprinkled with a carnation.  My second baptism–this time by immersion–happened when I was in high school after our church's pastor took me down the "Roman Road."  My third baptism happened when I was teaching school…again, by immersion.
Why all these baptisms?  That, too, is a no brainer:  I was afraid of going to hell.  As Allen calls it—baptism as fire insurance.  A question I often heard in my conservative Baptist churches was:  "Do you know that you know that you know if you were to die tonight, you'd go to heaven?"  I'm not a black-and-white thinker.  I never knew that I knew that I knew.  I got baptized all those times to cover all my bases.
So, when I learned about infant baptism–especially its greater emphasis on the community's role in baptism– I took great comfort in it.
When the Search Committee took me on a tour of the church back in October 2017 and I saw the baptistery…I'm not saying I started shaking or hyperventilating or anything, not much, anyway.  But it did give me pause.  A baptistery in a UCC church?  That's when I learned the building originally was built by the Disciples.  Because they practice believer's baptism by immersion, all Disciples churches have baptisteries.  In the UCC, we don't have anything against baptism by immersion—at all; it's just that infant baptism is more common.
I am happy to report that we now are using our baptistery regularly.  With all the work they're doing on the building–power-washing external walls that remain porous and susceptible to seepage, the humidity in this room is elevated.  The contractor recommended getting a dehumidifier.  The dehumidifier needs to be in a place where it can drain the water it soaks up.  What better place for a humidifier than a baptistery?  🙂
Do you know that for several centuries, new Christians were baptized in the nude?  They underwent a year of instruction—think, Confirmation–then those wishing to join the church (usually on Easter Sunday) would be baptized.  Naked as the day they were born…Which was the point, right?  Baptism represents new birth.
Beyond the symbolism of being re-born in the same state in which we're born, coming to baptism with nothing on reminds us that, as one writer says, "our worthiness isn't based on our decorations.  It has nothing to do with the way we look or don't look, what we can or can't do, our successes or failures, even our talents or inabilities.  We are reminded that we are known and loved in our diverse quirks and eccentricities."  We are known and loved for ourselves.  Period.
When Jesus emerges from the waters of baptism, God speaks:  "You are my child, my beloved.  With you I am well-pleased."  We hear similar language in today's text from Isaiah:  "I have called you by name.  You are mine.  And I love you."  Just as we are, God loves us.  Just as we are.  God.  Loves.  Us.  If each of us could believe that, deep down to our cores…if each of us could allow ourselves to receive the gift of God's profound love for us, it's my firm belief that the world would change.
Back in the mid-1990s when I was a graduate student at Emory University, I had the opportunity to sit in on a class Archbishop Desmond Tutu also was visiting.  During the class, the Archbishop told us about something that had happened the previous day.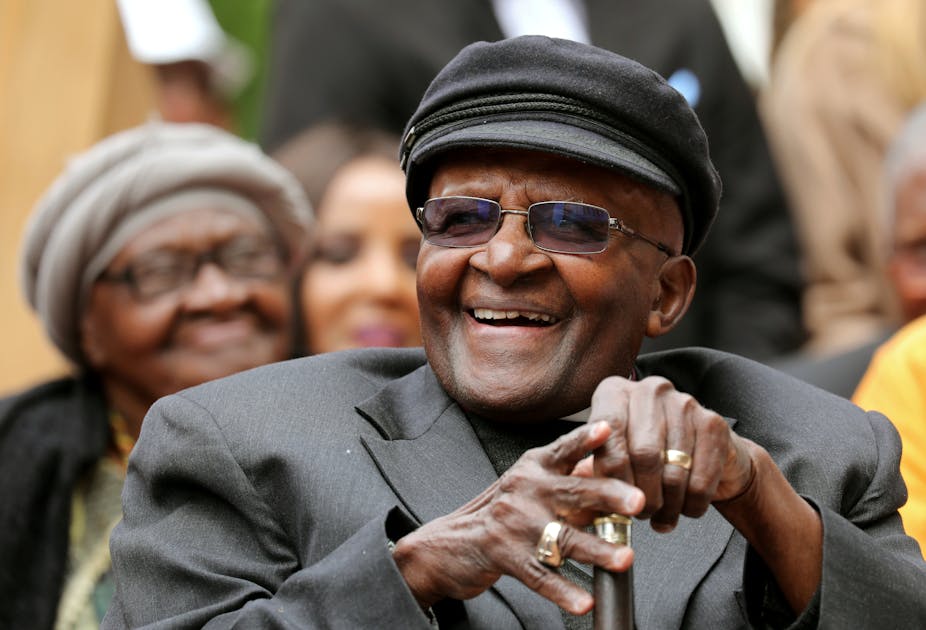 He'd been speaking to a large group for a while when he noticed that nearly every student had their head down, intent on capturing down every word he spoke.  At that point, the Archbishop said, "Stop!  Put down your pens!"  all eyes were on him.  "Don't you know that God loves you?"  The archbishop knew what the students had forgotten—that each of them was deeply loved by God…that Desmond was no more important than anyone else in the room…that the only thing that mattered was that each person in the room was God's beloved child.
I had a similar experience the first night we gathered for the clergywomen program I'm involved with called Women Touched by Grace.  As we were leaving a meet-and-greet gathering and Sr. Luke was giving us our final instructions for the next day, she said this:  "We just want you to know how precious you are."  We all stood there, stunned.  Precious?  Us?  Most of us are still trying to take in all that love over a decade later.
Preaching in this church is about the most fun I've ever had.  There is so much you all get about the Gospel, about living it in the real world.  I've never been part of a community that so wants to change the world, to create the kindom of God anyway we can.
A big part of the reason I accepted this call is that strong commitment to justice work.  Because of that commitment, sermons often focus on justice issues.  This week, we could take our pick of issues, couldn't we?  The injustice to hundreds of thousands of federal workers because of an unnecessary, capricious government shut-down; the daily injustices associated with trying to live in this country as a person of color; families being traumatized at our southern border; the ongoing struggle for equal rights for women; the climate change crisis; the injustice and cruel absurdity of ongoing wars that never should have been started in the first place.  There is no shortage of justice issues that can and should be addressed from this pulpit.
In addition to addressing directly specific justice issues, though, another calling of this pulpit is to remind us of the resources our faith gives us for engaging in the work of justice.  Perhaps the most empowering resource we have for the work of justice is the one we celebrate today:  our baptisms.  Jesus' vital work of acting the world into wellbeing in God's name only began after his baptism.  Before he began teaching and speaking truth to power and over-turning tables in the Temple, Jesus needed to know of God's love for him.  Even Jesus needed to hear:  "You are my child, my beloved.  With you I am well-pleased."  Our baptisms remind us that if our justice work doesn't begin with love, we are, as Paul will write later, a clanging cymbal.  We're all noise and little substance.  We're also at a much higher risk of burn-out.
So, today, as the dire and multiple needs for justice loom at the front door, I invite us all to rest in this moment, to remember our baptisms, to receive the profound gift of God's love for us.  I invite us all to remember just how precious we are.
Precious, precious, you are precious in God's eyes,
You are precious in God's heart.
Precious, precious, you are precious in God's eyes,
You are precious in God's heart.
In the name of our God, who creates us, redeems us, sustains us, and hopes for our wholeness.  Amen.
Kimberleigh Buchanan  ©2019