So, you're on the shore, beside your boat, washing your nets after a disappointing night of fishing.  A large crowd has gathered on the beach and up the hill behind it.  From the crowd emerges a figure, who walks up to your boat and steps right in.  The man asks you to put out a little way from shore.
And here we have the first instance of a biblical boat jacking….not really.  The man, of course, is Jesus.  The crowds have gathered to hear him teach.  Water is a natural conductor of sound…so, basically, Jesus is conscripting Simon into being his sound guy.  (I don't blame Jesus.  Can you imagine 1,000 people yelling at once, "We can't hear you!"  I'm not saying I've ever had an experience like that or anything…)
After the lesson is finished, Luke's story takes an unexpected turn.  When he's done, Jesus tells Simon to put out for deeper water and drop his nets there.  Simon tells Jesus he'd been fishing all night but had caught nothing.  Even so, Simon says, we'll give it a try.  He does…and the nets fill up so much they start tearing.  He calls his friends James and John to come help.  Overcome with the abundance of the haul, Simon urges Jesus to "go away from me, for I am a sinful man!"  Jesus doesn't.
Instead, Jesus says, 'Do not be afraid; from now on you will be catching people.' Then, the Gospel writer tells us, "they left everything and followed him."
We spend a lot of time in churches–and rightly so–reading and trying to understand Jesus' teachings.  For example, next week, we'll look at Luke's version of the Beatitudes, "blessed are the poor," and all that.  In this story, though we're told Jesus teaches, we aren't told what he teaches.  In this story, Jesus' lesson to the crowd isn't the point.
The point is what happens between Jesus and Simon Peter.  First, Jesus, um, invites Simon to donate his boat to the event.  Jesus invites Simon to use the things at his disposal for Jesus' purposes.  Which is cool.  I've been to the northern edge of the Sea of Genessaret;  I've walked on the shore and climbed the gently sloping hill.  I've heard the great acoustics.  The science geek in me loves the hows of amplification.  Or maybe I'm just drawn to the fact that Jesus didn't have to remember to turn on his microphone.  That Jesus was science smart is cool…but it's not the point of the story.
The point of the story is what happens after the lesson…the part where Jesus asks Simon to head for deep water and drop his nets.  It's after pulling in the abundant haul that the deeper point of the story is revealed–Jesus invites Simon to follow him.
Each Gospel tells the story of Jesus' call with a particular slant.  In Mark, Jesus just walks by, says "Follow me!" and Peter, James, and John "immediately" follow him.  Not a lot of commentary.  In John, Andrew hears Jesus, he takes his brother, Simon, to hear Jesus, then they take their friends James and John…and eventually Philip and Nathaneal.  In John, following Jesus grows out of personal encounters.
In Luke's version of Jesus calling the disciples, the tools of the fishermen's trade become the means by which they follow Jesus.  Jesus invites the disciples to use the materials at their disposal to "fish for people."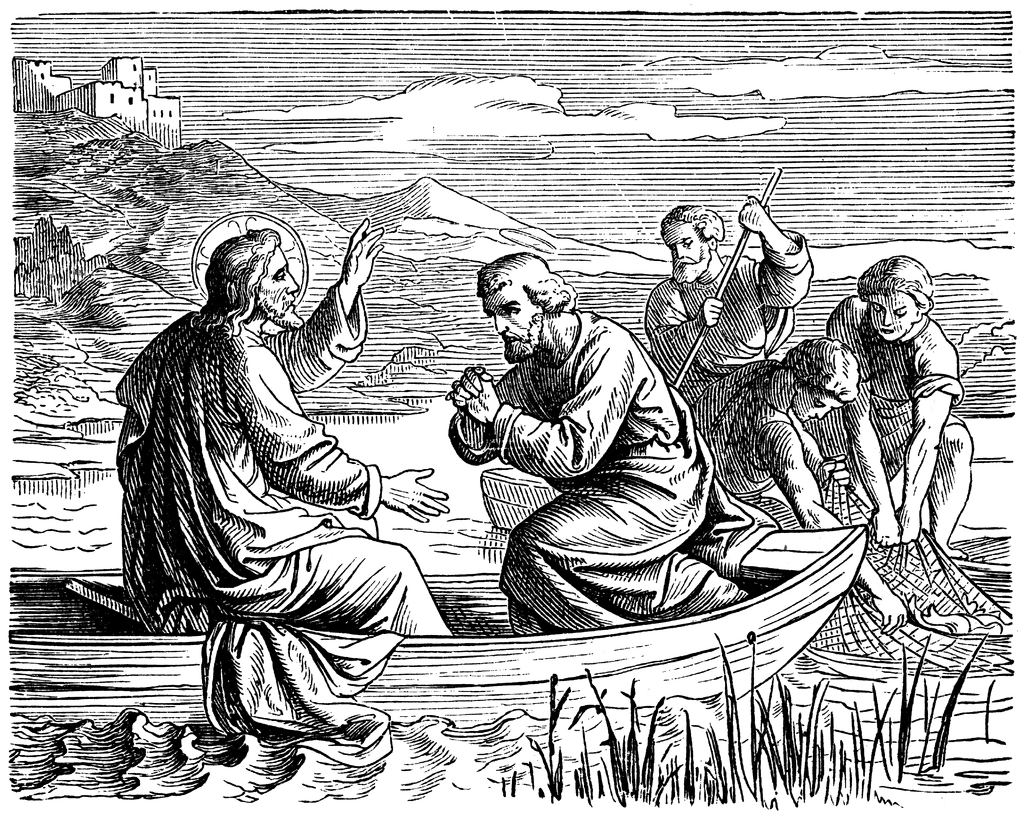 You might have noticed that I often wear a St. Brigid's cross.  (Show cross.)  It's a cross made of rushes or straw.  I wear it to remind myself of my love for Ireland and Celtic spirituality, but also because of the story that goes along with it.
As the story is told, there was an old pagan Chieftain who lay delirious on his deathbed in Kildare (some believe this was Brigid's father).  His servants summoned Brigid to his beside in the hope that the saintly woman might calm his restless spirit. Brigid is said to have sat by his bed, consoling and calming him and it is here that she picked up the rushes from the floor and began weaving them into the distinctive cross pattern. While she weaved, she explained the meaning of the cross to the sick Chieftain and it is thought her calming words brought peace to his soul. He was so enamored by her words that the old Chieftain requested to be baptized as a Christian just before his passing.  https://www.blarney.com/st-brigid_s-cross/
I wear St. Brigid's cross to remind me to use whatever is at hand to share God's love with others.
When I think of using the tools of one's trade to bring healing to the world, the first person who comes to mind is Oskar Schindler.  In World War II, the German factory owner used his business to save 1200 Jews from the Holocaust.  Or journalist Ida B. Wells, who used the tools of her trade to document lynchings throughout the South, starting in the 1870s.
We've spoken the past couple of weeks about how each of us has been given gifts to use for the common good.  It's been heartening to see just how many of you have stepped up to the plate and are beginning to serve the common good here at FCUCC.
How might we do the same thing in the wider community?  How might we use our gifts or the tools of our trade to share the message of love in the world?  How might we use our gifts and tools of our trade to follow Jesus?  How might we use our gifts and tools of our trade to act the world into wellbeing?
This isn't just a preacher question.  It's as real a question as our faith asks.  It is the fundamental question of our faith:  How will we use the means at our disposal to follow Jesus in repairing the world?
How will we use what we have to fight the insidiousness of racism?
How will we use what we have to dismantle social systems that enrich the wealthy and overburden the impoverished?
How will we use what we have to address the hopelessness that leads too many to take their own lives?
How will we use what we have to address the crisis of climate change?
How will we use what we have to transform greed and cynicism into generosity and compassion?
How will we use what we have to create lasting peace in the world?
How will we use what we have to nurture the children in our lives?
How will we use what we have to work for gender justice?
How will we use what we have to ease the burdens of illness and mental illness?
How will we use what we have to change the current rancor of civic dialogue into civil conversation?
How will we use what we have to follow Jesus?  How will we use what we have to share the message of love in the world?  How will we use what we have to act the world into wellbeing?
One more story from World War II.  In 1942, the Nazis established a concentration camp at Theresienstadt, Czechoslovakia.  In an attempt to show the world they weren't all bad, the Nazis sent many artists to Theirenstadt or Terezin.  Many families with children also were sent.
Friedl Dicker-Brandeis, an artist, designer, and teacher, was sent to Terezin in December 1942.  Before she left, Dicker-Brandeis "conceived a mission for herself and brought what art materials she could to the camp.
"Mrs. Dicker-Brandeis saw that the children of Terezin needed a form of artistic expression as a way to moderate the chaos of their lives. Drawing on her art school experience and available supplies—her hoarded materials, office forms, scrap paper, cardboard, wrapping paper—she provided excellent training in art fundamentals, studies of everyday objects, imaginative drawing, and complex still lifes, all the while freeing her students to reveal their feelings through their art."  (viii)
"They drew their concealed inner worlds, their tortured emotions, which Friedl Dicker-Brandeis was then able to enter and try to heal.  She helped restore a balance to the trembling consciousness of terrified children."  (xx, Chaim Potok)
"One of her students recalled, "I remember Mrs. Brandeis as a tender, highly intelligent woman, who managed—for some hours every week—to create a fairy world for us in Terezin…a world that made us forget all the surrounding hardships that we were not spared despite our young ages."  (I Never Saw another Butterfly:  Children's Drawings and Poems from Terezin Concentration Camp, 1942-1944, Expanded Second Edition, viii-ix.)
Hoarded materials, office forms, scrap paper, cardboard, wrapping paper…using what she had, Friedl Dicker-Brandeis brought healing to traumatized children's lives.  Using what she had, Friedl acted the world into wellbeing.
What do you have at hand?  How will you use what you have to heal the world?  How will you use what you have to follow Jesus?
In the name of our God, who creates us, redeems us, sustains us, and hopes for our wholeness.  Amen.
Kimberleigh Buchanan ©2019