Jesus told the disciples a parable on the necessity of praying always and not losing heart.
Anybody here losing heart?  Easy to do these days, isn't it?  Climate change, war, abhorrent treatment of immigrants, corruption…oh, yes.  These days, it's easy to lose heart.
Curious about what led Jesus to tell his disciples this parable, I read the verses that come before.  In Luke 9, Jesus "sets his face to Jerusalem."  On the way, Jesus tries to prepare the disciples for the day when he'll no longer be with them.  The times he describes are dire.
When the disciples anxiously ask where these terrible things will happen, Jesus says:  "Wherever the carcass is, there will the vultures gather."  Not the most calming image in the world.  So, Jesus follows it up with this parable on the need to pray always and not lose heart.
There's a judge who fears no one, not even God.  A woman, who has no other support, keeps coming to the judge, asking for legal protection from her opponent.  For a while, the judge stands firm, but finally relents.  'This woman won't leave me alone.  I'd better give her the protection she seeks, or she'll keep coming and wear me out!'"
Sometimes persistence is the only thing that leads to justice…to keep on and on making your case until the person to whom you're making it relents.  That the judge in the story doesn't care about anything or anybody highlights the fact that the only thing that makes him change his mind is the annoyance he feels at the woman's persistent requests.
I don't know yet what it's going to look like when we begin living with more intention as a Just Peace church.  Here's what I do know.  If we're going to do it well, we're going to need to pray like that woman who annoyed the judge.  If we're not to lose heart, we're going to have to pray persistently, consistently, doggedly.
So…drum roll please…it's time to introduce the idea of living as a Just Peace church.
At the heart of the UCC's understanding of "just peace," is the Hebrew concept of shalom.  In the book, A Just Peace Church, the authors quote "Old Testament scholar Gerhard von Rad, who defines 'shalom' not as some inner… pietistic possession, but as a communal wellbeing in which God's creation is justly ordered.  It is a state of existence in which all aspects of God's creation play their individual roles harmoniously for the good of the whole." 
That is the goal of any justice work in which we engage– "a communal wellbeing in which God's creation is justly ordered…a state of existence in which all aspects of God's creation play their individual roles harmoniously for the good of the whole."
At this week's Racial Justice Team meeting, someone asked how the work of Racial Justice intersects with Just Peace.  If your skin has more melanin (not melatonin, as I mistakenly said several weeks ago), how easy is it to "play your individual role harmoniously for the good of the whole?"  How about for those of us who have less melanin?  The power dynamics in our world are so whop-sided, none of us is playing the role creation assigned us.  Some of us have more power than we were created to have; others have less.  Because none of us is playing our natural role, none of us is at peace.  Peace only comes when we can live fully as who we've been created to be.  Thus, those working for racial justice seek shalom–authentic wholeness–for all who are diminished by systemic racism, which is everybody, right?
The same is true for those who are working for environmental justice.  Are we living "harmoniously for the good of the whole" in relation to creation?  No.  But those who are persistently working for environmental justice–through legislation, like the Citizens Climate Lobby, or through direct activism, like Sunrise Movement–are seeking shalom, "a communal wellbeing in which God's creation is justly ordered" for all creation.
Another vital part of just peace/shalom is recognizing the dynamic relationship between cultivating inner peace and working for peace in the world.  Just Peace work begins within.  That means that our classes here, our prayer groups, our worship services, all of that is just as important to our work of peacemaking as justice work we do out there…because how can we create shalom out there if we're at war internally?  How can we work for the harmonious good of the whole if cacophony rules our spirits?
There's an insert in your bulletin.  On it, you'll find the proposed covenant for FCUCC's Just Peace process and the motion for the congregation to approve it.  This version is from 2013.
On the other side of the insert, you'll find a worksheet.  Yes.  More homework.  In the middle of the worksheet, you'll see the definition of shalom I read earlier.  Around that, you'll see listed various ministries of our congregation.  Based on the definition of shalom provided, how does each ministry connect with Just Peace?  What ministries have I forgotten?  How do those ministries engage in the work of shalom/just peace?  In your personal life, how are you living just peace and shalom?  How are you, personally, working for the good of all?
True or false.  There is an International Day of Peace.  (Responses)  What's the date?  (Sept. 21)  How long has the day been celebrated?  (In its present form, since 2002.)  Do you know how was the day established?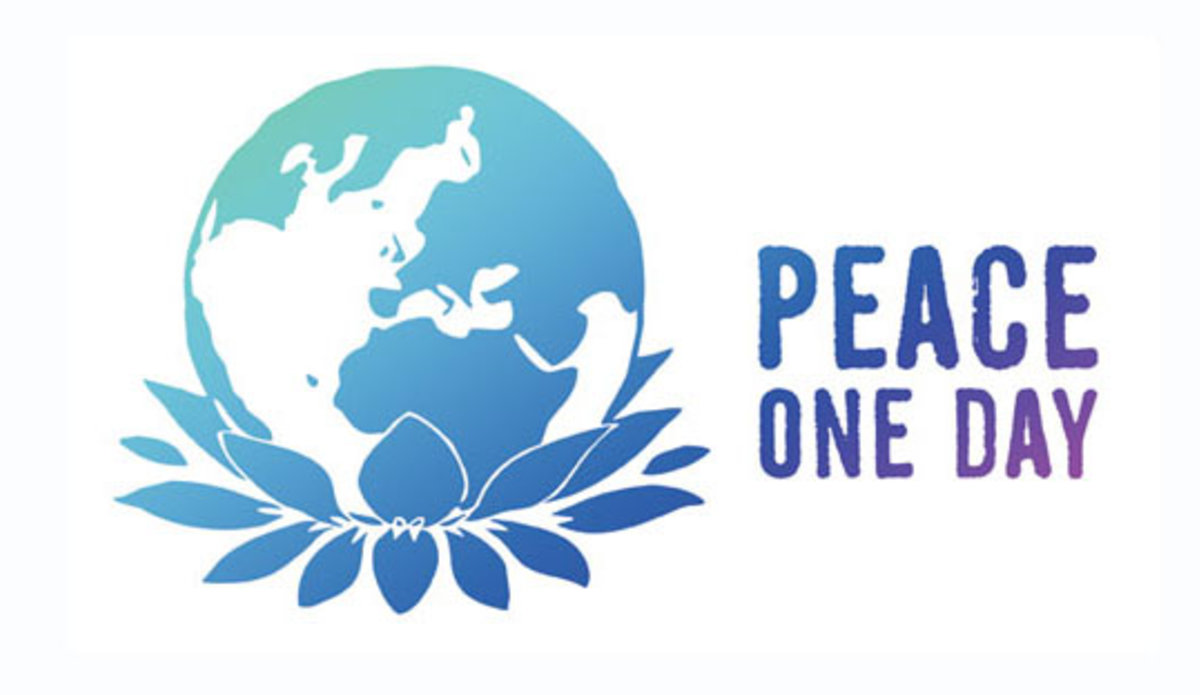 Peace One Day is a film that documents British filmmaker Jeremy Gilley's work to establish an International Day of Peace.  In 1998, Jeremy became overwhelmed by the state of the world, particularly, all the war and the suffering it causes.  He decided to begin working to establish a global day of cease-fire with a fixed date.  If his efforts failed, he decided, he'd have a great film.  If his efforts succeeded?  That could be huge.
As his work began, Jeremy learned that, in 1981, the UN had passed a resolution– sponsored by Costa Rica–establishing an International Day of Peace.  The date was set for the third week in September, to coincide with the opening of the UN General Assembly.  The Day of Peace did not include a global cease-fire.  The film chronicles Jeremy's dogged persistence in working for an International Day of Peace with a fixed date that included a global cease fire.
In the film (which is available on YouTube), you see Jeremy meeting with diplomats from countries around the globe, several Nobel Peace Laureates, the General Secretary of the UN.  You see his efforts to enlist the United Kingdom and Costa Rica to co-sponsor the new resolution.  You see more than a little bureaucratic rigamarole.  You also travel with Jeremy to places of unrest in the world—like Somalia.  You see Jeremy meet with the United Arab League and be brought up short when the film he shows about the Peace One Day movement includes a clip of Israeli Prime Minister Shimon Peres, but no Arab leadership.
You also see Jeremy in the General Assembly on September 7, 2001, when the UN approves the resolution for establishing an International Day of Peace with a fixed date of September 21 and a call for a 24 hour global cease-fire on that day.
You also see Jeremy four days later at a gathering outside the UN.  Children are playing violins.  People are gathered to hear UN Secretary General, Kofi Annan, ring the Peace Bell and announce the new resolution for an International Day of Peace.  The cameras also catch a shot of an airplane flying into one of the World Trade Center towers.  Suddenly, the process of getting the word out about the International Day of Peace gets much more complicated.
The film ends with an interview with Ahmad Fawzi, Director of News and Media Division, Department of Public Information at the UN.  Mr. Fawzi had been a conversation partner for Jeremy throughout the four year process of getting the Day of Peace resolution passed.  It's October 2003.  Two International Days of Peace are in the books.  There has yet to be a cease fire.  Jeremy asks Mr. Fawzi, What gives?
In a poignant moment, Fawzi acknowledges that, two years in, the International Day of Peace is more of an abstract celebration for most people, a day to dance and sing and hug each other.  Getting countries actually to practice cease fire on September 21st every year?  That will take a lot more work.  After a pause, Fawzi says, "It's not one film, Jeremy."  One film won't do it.  "It's going to take dozens of films, dozens of books, dozens of actions."  The first expression on Jeremy's face when he hears these words is despair.  But then you see the light dawn.  All of the individual actions we take are part of a greater effort.  And, as persistent as he had been for five years, as much of his life as he had given to the movement, in many ways, the process had only begun.
Three years before this meeting with Mr. Fawzi, the Dalai Lama had said this to Jeremy.  "Peace is our moral responsibility.  Make the attempt!  It doesn't matter if it happens in our lifetime or not.  We are human beings.  We have the responsibility to show the right path…or at least make an attempt for a better future.  We might not enjoy that brighter future.  It doesn't matter.  This is meant for humanity, meant for the world.  So, it doesn't matter how limited the effect.  We must make every effort for the promotion of peace and inner values."
As we seek to engage in the work of just peacemaking here at FCUCC, may these words and the example of one persistent woman inspire us to pray always and not to lose heart.
In the name of our God, who creates us, redeems us, sustains us, and hopes for our wholeness.  Amen.
Kimberleigh Buchanan  © 2019