Luke is the original Broadway Gospel.  Every time something big happens, the story's characters break into song.  When the pregnant Mary visits her cousin Elizabeth, she breaks into song.  (#119) "My soul gives glory to my God…" When angels appear to shepherds in the field, they break into song.  (#125) "Gloria!  In Excelsis Deo!"   When Mary and Joseph present the infant Jesus at the temple, the elder Simeon breaks into song.  (#807): "Holy One, now let your servant go in peace; your word has been fulfilled."  Luke's John the Baptist doesn't break into song, but when Godspell's John the Baptist does, it feels pretty Lukan.  Shall we sing it together?  Prepare ye the way of the Lord. 
Of all the songs sung in Luke's Gospel, perhaps the sweetest is the one sung by the priest  Zechariah.  Though deeply faithful, Zechariah and his wife Elizabeth remained childless.
Once a year, a priest was selected to go into the temple to make a special offering for the people.  On Zechariah's year, an angel appears and tells Zechariah that he and Elizabeth are going to have a baby.  They'll name him John.  Zechariah's response to this joyful news?  "How will I know this is so?  For I am an old man, and my wife is getting on in years."  And the survey said, BLAST!  Wrong answer.  Zechariah's punishment for not believing the angel's good news?  "You will become mute until these things occur."
Struck mute.  Man, that had to be hard for Zechariah.  Maybe not so much for Elizabeth… but for Zechariah, really hard.  Which had to make his joy at the birth of his son that much more joyous.  No wonder he breaks into song!  Let's sing that song together.  (#110)
Now bless the God of Israel, who comes in love and power,
Who raises from the royal house deliverance in this hour.
Through holy prophets God has sworn to free us from alarm,
To save us from the heavy hand of all who wish us harm.
Remembering the covenant, God rescues us from fear,
That we might serve in holiness and peace from year to year;
And you, my child, shall go before to preach, to prophesy,
That all may know the tender love, the grace of God most high.
In tender mercy, God will send the dayspring from on high,
Our rising sun, the light of life for those who sit and sigh,
God comes to guide our way to peace, that death shall reign no more.
Sing praises to the Holy One!  O worship and adore.
If this number were being staged, Zechariah would be holding little John, singing these words as a lullaby.  "And you, my child, shall go before to preach, to prophesy, that all may know the tender love, the grace of God most high."  Here's how the last verse of Zechariah's song reads in Luke 1:  "By the tender mercy of our God, the dawn from on high will break upon us, to give light to those who sit in darkness and in the shadow of death, to guide our feet into the way of peace."  To guide our feet into the way of peace.  Then we're told that "the child grew and became strong in spirit…"  Growing up hearing his dad sing these kinds of songs to him, to pray these kinds of things for him?  It's no wonder John became "strong in spirit."
But peaceful?  I'm not so sure John got that message.  Later, we see that John did fulfill his dad's vision of his "going out to preach and prophesy."  Here's his first sermon:  "You brood of vipers!  Who warned you to flee from the wrath to come?  Do not begin to say to yourselves, 'We have Abraham as our ancestor'; for I tell you, God is able from these stones to raise up children to Abraham.  Even now the axe is lying at the root of the trees; every tree therefore that does not bear good fruit is cut down and thrown into the fire.'"  Preach, yes.  Peace?  It sounds like John was still trying to figure out the peace part.
How about you?  Do you have the peace thing figured out?  Do you pray for God to guide your feet into the way of peace?  Do you know when you're actually walking in that way?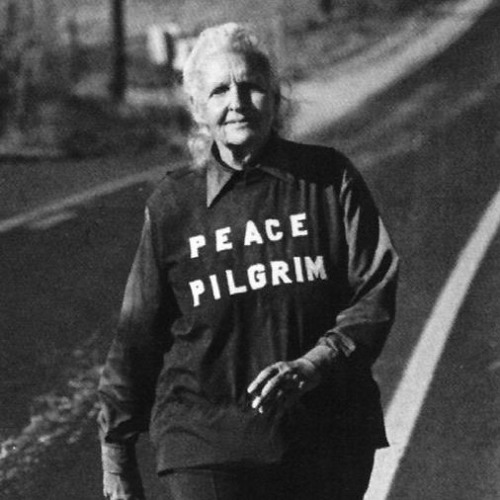 It took her 15 years to figure it out, but a woman who took the name Peace Pilgrim, let her steps be guided by peace.  A typical teenager and young woman, Peace loved fashion; she sought the good life.  But on a walk through the woods one evening, a voice came to her.  She began to question her choices in life.  She didn't know exactly what it meant, but she began listening to the voice inside her….and slowly—bit by bit—her life changed.
It began with helping her neighbors, staying with a sick friend during that friend's convalescence, assisting troubled youth.  During her years of discernment, she began to feel the burden of ownership…so she started getting rid of her possessions.  (Peace Kando-ed before Marie Kando was even born.)  In a palpable way, the strong connection between inner peace and world peace began to crystallize for Peace.
Finally, Peace knew what she was being called to do:  she would walk across the country spreading the message of peace….she would walk, in fact, until world peace had been achieved.
She began, of all places, at the Rose Bowl Parade, New Year's Day, 1953.  Here's the explanation Peace shared with people during seven trips of walking across the United States:
"You may see her walking through your town or along the highway—a silver-haired woman dressed in navy blue slacks and shirt, and a short tunic with pockets…in which she carries her only worldly possessions.  It says, "PEACE PILGRIM" in white letters on the front of the tunic and "25,000 Miles on Foot for Peace" on the back.  She has walked the 25,000 miles.  However, she continues to walk, for her vow is, "I shall remain a wanderer until (hu)mankind has learned the way of peace, walking until I am given shelter and fasting until I am given food."  She walks without a penny in her pockets and she is not affiliated with any organization.  She walks as a prayer and as a chance to inspire others to pray and work with her for peace." (vii)  Peace walked until she died—ironically—in a car accident in 1981.
Are you ready to sell everything and start walking around the country for peace, walking until you're given shelter and fasting until you're given food?  Not to worry.  Peace Pilgrim was clear from the beginning that embarking on a peace pilgrimage was her calling, a calling it took her 15 years to discern.  A big part of her mission was to invite others to think about what their calling to peace might be.
What do you imagine your calling to peace might be?  I was a little hard on John the Baptist earlier, with all that brood of vipers stuff.  Truth is, when his listeners began pushing back, he gave them some good ideas about how to create peace:  "Whoever has two coats must share with anyone who has none; and whoever has food must do likewise."  Luke tells us that "even tax collectors came to be baptized, and they asked him, 'Teacher, what should we do?  He said to them, 'Collect no more than the amount prescribed for you.'  Soldiers also asked him, 'And we, what should we do?'  He said to them, 'Do not extort money from anyone by threats or false accusation, and be satisfied with your wages.'"
It's interesting that these last two suggestions are made to people in specific professions, tax collectors and soldiers.  John tailors his responses to those people based on where they are in life….because that's where the way of peace begins, isn't it?  Not necessarily on some grand pilgrimage around the country, but in the small actions of our everyday lives.
It's good to hear about people like John the Baptist and Peace Pilgrim, people who were able to commit every aspect of their lives to the way of peace.  But what about us?  How will we commit ourselves to the important work of peacemaking?  How will we—in the context of the lives we already are living—create peace in the world?  How will we contribute to the world and its people becoming a little more whole?
In a recent Monday's Musings, I confessed that all those times I'd been asking you all if you didn't feel overwhelmed by all the broken places in the world, I was actually talking about myself.  Oh, yes.  I see all the mending the world needs and it mostly makes me want to crawl into bed and pull the covers over my head.  It's true that a big part of my personal calling in the work of peacemaking is the work I do here at church—preaching about peace, working with the Faith Formation team to provide classes on peace (Rollin's class), working with the worship team on peace, being in conversation with Earth, Racial Justice, and Benevolence teams on the important work of acting the world into wellbeing.
But when it comes to engaging in peacemaking outside the church?  That can get overwhelming.  How does one decide?  There is so much work to do, all of it important, crucial work…but there are only so many hours in the day.  How do you decide?
Then I signed up to preach once a month at the prison.  Bingo!  I'm a preacher; they need preachers.  There's a lot of brokenness in the world that I'm never going to be able to mend.  But the second Sunday of the month from 6:30 -7:30 p.m.?….yeah.  I can mend that tiny bit.
What tiny bit might you mend?  What skills or passion from your day job—or your pre-retirement job—might you employ in mending one tiny piece of the world?  And what might happen if each and every one of us tends to mending one or two tiny bits?  If each of us diligently works to create shalom in our small corner of the world, might shalom then become more real for the rest of world?  What say we give it a try?
In the name of our God, who creates us, redeems us, sustains us, and hopes for our wholeness.  Amen.
Kimberleigh Buchanan  © 2019  (2016)