Prayer Service for National School Walk-Out (3/14/18)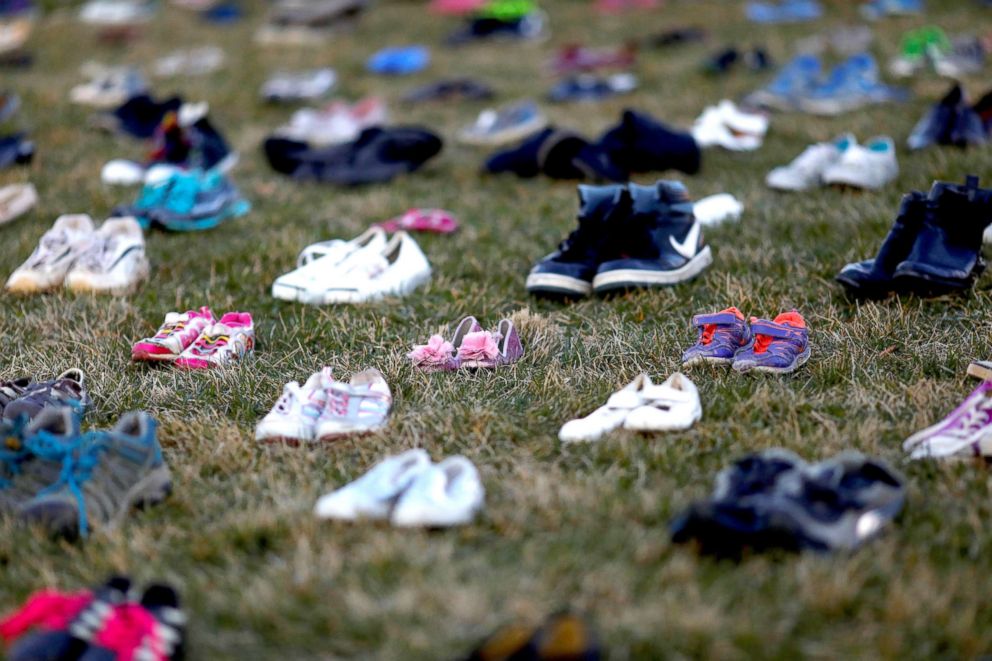 Welcome
Reading of the Names of Those Lost at Marjory Stoneman Douglas High School in Parkland, Florida, on February 14, 2018.
Alyssa Alhadeff, 14
Scott Beigel, 35
Martin Duque Anguiano, 14
Nicholas Dworet, 17
Aaron Feis, 37
Jaime Guttenburg, 14
Chris Hixon, 49
Luke Hoyer, 15
Cara Loughran, 14
Gina Montalto, 14
Joaquin Oliver, 17
Alaina Petty, 14
Meadow Pollack, 18
Helena Ramsay, 17
Alex Schachter, 14
Carmen Schentrup, 16
Peter Wang, 15
Silence
Hymn:  God, We Have Heard It    ("Ah, Holy Jesus")
God, we have heard it, sounding in the silence:
News of the children lost to this world's violence.
Children of promise! Then without a warning,
Loved ones are mourning.
Jesus, you came to bear our human sorrow;
You came to give us hope for each tomorrow.
You are our life, Lord God's own love revealing.
We need your healing!
Heal us from giving weapons any glory;
Help us, O Prince of Peace, to hear your story;
Help us resist the evil all around here;
May love abound here!
By your own Spirit, give your church a clear voice;
In this world's violence, help us make a new choice.
Help us to witness to the joy your peace brings,
Until your world sings!
Tune: Johann Crüger (or Crueger), 1640 ("Ah, Holy Jesus")  (MIDI)
Text: Copyright © 1999 by Carolyn Winfrey Gillette. All rights reserved.
Email: bcgillette@comcast.net  Permission is granted for free use of this hymn in worship.  http://www.carolynshymns.com/
Prayers
            (We'll end each group of prayers with "God in your mercy, Hear our prayer.")
            …for students walking out today…
…for the 7,000 students killed since the Sandy Hook school massacre…
…for administrators and teachers…
…for our legislators at the local, state, and national levels…
…for the soul of our nation…
…for ourselves…our anger, our fear, our determination, our hope…
…for peace…
Hearing the Words of Stoneman Douglas High School…
No kid should be afraid to go to school, no kid should be afraid to walk outside, and no kid should have to worry about being shot. Now that's why I'm marching."
— Alfonso Calderón, Junior
"The 'children' you pissed off will not forget this in the voting booth. Don't doubt the power of the younger generation, because we are a force to be reckoned with."
—Aly Sheehy, Senior
"Maybe the adults have gotten used to saying 'it is what it is,' but if us students have learned anything, it's that if you don't study, you will fail. And in this case if you actively do nothing, people continually end up dead, so it's time to start doing something. We are going to be the kids you read about in textbooks. Not because we're going to be another statistic about mass shooting in America, but because…we are going to be the last mass shooting."
— Emma González, Senior
"High schools shouldn't be hashtags every other day"
—Jaclyn Corin, Junior
"More prayer, Jesus, god, and compassion won't bring back the victims that sadly lost their lives. It won't bring back the sense of security that my fellow peers and I lost. The only way to get that back is through gun control starting now."
—Jose Iglesias, Senior
"The children will become leaders as the leaders have become children."
—Madison Leal, Junior
"We march for Parkland, Newtown, Chicago, St. Louis, Columbine, and every other town in America affected by gun violence."
—Nikhita Nookala, Senior
"On March 24th, #IWillMarch so no child ever has to worry about texting their parents a final "I love you.'"
—Alex Wind, Junior
"Our trauma isn't going away, but neither are we. We will fight everyday because we have to, because change is the only thing that makes any of this bearable."
—Leonor Munoz, Senior
"The fact that some of the students at Stoneman Douglas high school … are showing more maturity and political action than many of our elected officials is a testament to how disgusting and broken our political system is right now in America. But we're trying to fix that."
—David Hogg, Senior
"Our nation's leaders are baffled and surprised that a bunch of 17 year olds are planning a nationwide movement but haven't even blinked that we'll also be able to purchase weapons of war in the same year."
—Adam Alhanti, Junior
"The faces you see all over the media are not the only members of this movement. If you are willing to help to make a change, you are also a member. Simple as that."
—Morgan Williams, Junior
"We may be young but our voices are louder than you can imagine."
—Sarah Chadwick, Junior
"I blame the government for what happened and the people that are sending prayers and condolences but aren't doing anything. It's just heartbreaking to know that the people that are representing you are failing you."
—Lina Crisostomo, Junior
"This isn't red versus blue. This is life or death. And we refuse to ever allow any other student or human being to endure what we endured."
—Liz Stout, Senior
A Vow to Listen
The young people have spoken.  We will listen.
They have challenged us to take action.  We will act.
They are the hope of our future.  We will follow where they lead.
But mostly, we will listen.  We will listen.  We will listen.
Benediction
Christ has no body now but ours.  No hands, no feet on earth but ours.  Ours are the eyes through which Christ looks compassion on this world. Ours are the feet with which Christ walks to do good.  Ours are the hands through which Christ blesses all the world.  Ours are the hands, ours are the feet, ours are the eyes, we are Christ's body. Christ has no body now on earth but ours.  (Adapted from St. Teresa of Avila)
******************************************************************************
Join us…
–Saturday, March 24th, March for Our Lives, 11:00 a.m. Pack Square