(Sing: "Paul and Silas bound in jail…")  Today's story from Acts served as a template for many freedom workers during the Civil Rights Movement.  A young woman, possessed by an unclean spirit—what today, we'd probably call mental illness–chases after Paul, Silas, and the others.  As with many people who struggle with mental health issues, she could see deep down into the truth of things.  She called it out:  "These men are servants of the Most High God, who proclaim to you a way of salvation."
Paul likely saw the young woman's suffering and that she was being exploited by those who assumed they owned her.  But Paul also was annoyed.  He stopped, faced the young woman, and, in the name of Jesus, called the demons possessing her to come out.  They did.
Paul had done a good thing, right?  Even in his less-than-patient mood, Paul acted that young woman into wellbeing.  That should have been the end of the story, right?  But—of course—it wasn't…because healing those who are hurting, taking action that leads to people becoming more whole…healing the wounded often infuriates those who exploit those wounds…
And so, for their healing work, Paul, Silas, and the others are rewarded with jail.
The healing work of civil rights workers also often landed them in jail.  Acting African Americans in the Jim Crow south into wellbeing, challenging laws that institutionalized the dehumanization of black citizens…yeah.  That infuriated the powers-that-be.  And so those powers-that-be used their most potent resource–the legal system– to silence their critics…
Except….it didn't work.  You put a group of justice workers in a jail cell together and don't give them anything else to do, they're going to figure out something to do.  And without paper, pen, books, tools, or tasks, the only thing that was left for them to do was to sing.
That's what Paul and Silas did in the jail in Philippi.  They sang.  And as they sang, an earthquake shook the jail and it came crumbling down.  The prisoners' singing freed them.
It was less literal than stone walls crumbling, but the singing of jailed civil rights workers freed them, too.
One of the leading teachers of nonviolent resistance was Rev. Fred Shuttlesworth.  Some of our folks met Rev. Shuttlesworth's daughter last summer when we visited the memorial in Montgomery.  In a pre-demonstration session in Birmingham in 1963, here's what Rev. Shuttlesworth said to the young people gathered:  'It's to be a silent demonstration.  No songs, no slogans, no replies to obscenities.'  Everyone nodded.  'However,' the reverend added, 'when you're arrested, sing your hearts out.'
"So, all the young people filed out of church, solemn as deacons, quiet as mice.  Then a cop came along and shouted, 'You're all under arrest!'  That was the cue.  Suddenly, they sang:
Ain't a-scared of your jail 'cause I want my freedom, I want my freedom, I want my freedom…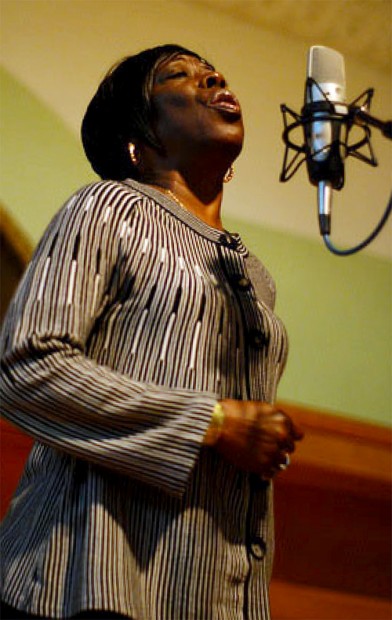 In a recent interview, Civil Rights worker and singer Bettie Mae Fikes–sometimes called "The Voice of Selma"–talked about the role singing played when she was in jail.  "In jail," she said, "that's all I had was the music. We were so crowded we couldn't lay down. So we just crumbled together. Singing, singing, singing, singing, all day, all night. All day, all night. And all of a sudden you'd hear somebody say, all day, all night, 'The angels keep watching over us.'  The jailers used to tell us, "If you don't shut up, we're gonna rape you all and take tar paper and put it all around the windows."  But we kept singing, "Ain't gonna let nobody turn me around."
(Sing:  Ain't Gonna Let Nobody Turn Me 'Round)
Last Fall, we started living into a new music vision here at FCUCC.  It's led to a new model for leadership of our music ministry with two people to lead.  We got a terrific visual and aural picture of their ministry last week when Joanna, Marika, and Cara sang "Down in the River to Pray" together.
That's the most concrete change since beginning to live into this new music vision.  Other shifts are starting to happen, as well, especially as we begin making more musical connections outside our FCUCC community.  Both Marika and Joanna have lots of connections to musicians outside our congregation.  We'll hear from more of those folks this summer in worship.  It's getting to where now when we have guests at worship or when I meet people around town, they give me one of their CDs.  Some folks are very interested in bringing their music into a faith community.  I'm not yet sure how all of that will work out.  Joanna, Marika and I are starting to explore some of the possibilities.
One of the things that's gob-smacked me with the music vision thing is the large number of opportunities that are just popping up unbidden.  It's like, you come up with a vision and BOOM!  Things just start happening.  One of those discoveries for me is Traditional Song Week at the Swannanoa Gathering at Warren Wilson College this summer.  Do you know about Swannanoa?  If you want to know how–as we say in our Music Vision Statement–to become known as a "destination for community singing," THE workshop to attend for that is Trad Song week at Swannanoa.  And it's just nine miles down the road!  How cool is that?  So…I'm going to Trad Song Week this year to learn how to lead community singing events…which, as I've learned, isn't a new thing here at FCUCC.  We've done community sings in the past.
Mark your calendars.  On Saturday, July 13th, we're going to host a concert and community sing with someone who has devoted his life to it, Matt Watroba.  He'll join us in worship the next day, too.  Matt teaches a class at Swannanoa that I'll be taking.  Also during the week Matt and I will be planning for his time with us on July 13th and 14th.
So…why all this focus on music…particularly on singing?  Because I believe today's Scripture story; I believe the experiences of Civil Rights freedom workers; I believe that singing frees us—literally, figuratively, all ways.  Things happen with singing that don't happen in any other way…because it's almost impossible to sing with someone when you're angry with them.  Because the distance between creating literal harmony and relational harmony is a short one.  Because few things engage us with all of who we are—minds, bodies, spirits—like singing.
Civil rights worker Ruby Sales summarizes well the crucial role singing has played for African Americans.  She reminds us that:
"During enslavement, it was a capital punishment for African Americans to read.  We could be put to death for reading.  It was against the law to write.  It was against the law to engage in public discourse.  The only thing we had left was culture and, out of that culture, we created songs.  And so songs became a way in which black people expressed ourselves in a society that tried to reduce us to property and said we weren't significant enough to speak.
"It was our inner selves.  It was the essence of who we are as a people.  It was a repository of our hopes, the repository of our dreams, the repository of our victories, and the repository of our defeats.  It was the essence of a people who were not meant to survive.
"It told the world how we had survived enslavement.  It told the world how important it was to love everybody.  It told the world that we've got a right to the tree of democracy.  It told the world that everybody — I've got shoes, you got shoes. All God's children got shoes.
"When you start off singing a song," Ms. Sales says, "something changes inside of you and you're not who you were when you first started singing.  So I think songs are very important.  Without songs, we couldn't have had a movement.  We could not have had a movement because the songs represented. . . .  It was where we embodied our courage."
Most social justice movements these days don't have songs.  There are marches, there are signs, there are speeches, there are letters written to legislators…but where are the songs?  How often in our everyday lives do we sing together?  I love my iPod, but I do wonder if the extreme personalization of music set lists is harming our sense of civic community.
I also wonder what might happen if we started singing together?  We do that, for the most part, here every week.  But what might happen if we started singing together out there?  With our neighbors?  With people in the park?  With people in the grocery store?  What might happen?  Would something inside of us change?  Would we be someone different by the end of our songs?  Would the walls that separate us come tumbling down?  Would we find new strength in our joined voices?  Would the harmony we create empower us?  Would the melodies we sing together drive away all that seeks to divide us?
Wayman has been encouraging me for several weeks to attend the drumming circle down at Pritchard Park some Friday evening.  We went this past Friday.  Oh.  My.  Goodness.  What an experience!  All kinds of people drumming…people dancing…children running around… people of all skin tones, abilities, ages…I knew very few people gathered Friday night…but there was a strong sense of oneness, community, even of intimacy…as we all found the group's "groove" and went with it…it was holy.  And whole-making.  And hopeful.
I suspect we'll find a similar holy, whole-making, and hopeful experience when we sing together, too.  Things get more complicated when you add words and melody and harmony, but perhaps the extra work will be worth it.  It was worth it for Paul and Silas.  It was worth it for Bettie Mae Fikes and Ruby Sales.  Perhaps it will be worth for us, too.  And perhaps—as it did for Paul, Silas, Bettie Mae, and Ruby—perhaps our singing also will transform the world.
Sing Hold On…