How good it is to be back with you…especially in the pulpit!  And not just because it means my foot is healing; or because I really like you all; or because Allen has begged me to, please, please, please, preach to someone else for a change.
I'm glad to be back with you today because, while I was laid up from foot surgery, I had some time to think.  I've been chomping at the bit to share the insights that emerged from that thinking.  And look!  Here I am.  There you are.  It's time!       …or so I thought.
My initial plan for this sermon was to roll out our new church theme.  But when I sat down to write the sermon, the sermon I'd planned to preach isn't what came out.  When I saw what appeared on the laptop's screen, though, I realized I'd been jumping the gun.  Just like you can't rush the healing process after foot surgery (Yes.  I've tried that, too.), you can't rush forging ahead into the future.
As we heard last week, the best way to move forward is to focus on the present.  If we cling to the past, we can't move forward.  If we naively hope for an ideal future with no plan to get there, we're can't move forward, either.  The only way to begin to move forward in healthy and whole-making ways is to take stock of where we are right now.  From the vantage point of now, we can look back at where we've been–with gratitude and objectivity.  From the vantage point of now, we can look hopefully to the future and make realistic plans for getting there.
So, the big rollout for our new theme—a new vision for moving forward together as a church—will happen next week. I think. Today, I invite us to reflect on where we are right now.
So, where are we?  As I've reflected the past few weeks, I've begun to wonder if we've been spinning our wheels a little.  For the past several years, the community's focus has been clear. For a couple of those years, it was the important work for marriage equality.  Certainly, other ministries were continuing during that time, but the main focus was marriage equality.
Shortly after the Supreme Court green-lighted marriage equality, things started getting rocky here at church.  The departure of some staff members, including your pastor.  Hiring an Interim.  Losing long-time members because of the conflict.  Processing what had happened.  Beginning the work of healing.  Adopting a new model for governance and ministry.
You know those "How stressed are you?" quizzes?  A couple of years ago, this congregation would have aced that quiz.  A-PLUS!  YES, WE'RE STRESSED!
And, as if you weren't stressed enough already, you began the long process of searching for a new Senior Minister.  When I came on board in February 2018, the community's focus shifted to settling into the new relationship between congregation and pastor.  The first year we were married, Allen and I were asked over and over, "So, how's married life?"  There's no way you can answer that in your first year of marriage!  For the first six months, you wake up every morning, look to the other side of the bed and say with surprise, 'Oh, yeah!  I'm married!'  That's pretty much what we've been doing here at FCUCC.  We come every Sunday and say, 'Oh, yeah!  She's our pastor now!  Oh, yeah!  This is my congregation now!'  It takes a long time to settle into a relationship.  Someday, I might even stop calling this town Atlanta. J
A common dynamic in the first few months–or even the first couple of years–of a new pastorate, is the assumption that, 'Ah!  Now that we have a new pastor, we'll be able to get back to where we were five years ago, back when everything was working well!  Back before all the unpleasantness.  All the people who left will return!  Worship will be just like it was.  Oh, it'll take us a few weeks–maybe a couple of months–to settle in, but then we'll be just who we were back in the good old days!'
Except that we're a different congregation now.  Many of us weren't even here five years ago.  And those of us who've been here longer likely are in a different place than we were five, ten, or 20 years ago.  If we aren't who we were as a congregation, who are we?
Here's what I think.  I think we've been working hard to settle into our life together as pastor and congregation.  We've worked hard to settle into the new model for governance and ministry.  We've continued tending to our healing.  We've begun living into a new Music Vision.  We've worked to complete renovations that began over a decade ago.  We've worked hard to close the chapter on what has been.  You have worked so hard.  We have worked so hard.  All that work has been so important.  It's laid the foundation for whatever is going to come next.
Here's what I've realized in the last couple of weeks, though:  I don't think we're clear about what comes next.  We haven't yet caught a new vision for where we're headed.  That's not a judgment.  Not at all.  In fact, it would be surprising if, a year and a half into a new pastorate, a congregation knew precisely where it was heading–especially a congregation that was still living into a new model for governance and ministry, that had experienced a lot of transition, and that was still actively engaged in a healing process, even as it continues to welcome newcomers.
So, where are we today, September 22, 2019?  Here's where I think we are.  I think we are in a place of strength.  That strength has many sources–our love for each other, our compassion for the world, our passion in equal parts for prayer and justice, and our diligent attention dealing with difficulties head-on and working them through.
Now that we have done that work, now that we are stronger, we are ready.  We are primed to catch a new vision, one that will help us focus the work we do together and the diverse work we do through this congregation.  We are ready to stop spinning our wheels, to gain some traction, to plant our feet and push off into a future of acting the world into wellbeing.
Ready to hear the vision?  Excellent!  Come next week and I'll roll it all out for you.  J
As we prepare to catch this new vision of who we are and where we're going, it'll help to set the context. Today's reading from Proverbs identifies that context:  the entire universe.
It sounds like a smart aleck answer. After all, everything happens in the context of the universe.  But today's reading from Proverbs invites us to see the universe through a unique lens.
The first 9 chapters of Proverbs are spoken by Wisdom in first person.  In today's text, Wisdom says that God gave birth to her, even before the first acts of creation. From the beginning of all that exists, Wisdom was there.  Thus, Wisdom attended—midwifed—the birth of everything that exists.  All creation—the entire universe—is shot through with wisdom…
…the wisdom of being only what and who one is created to be… the wisdom of diversity and interdependence…the wisdom, as poet Mary Oliver wrote, of "knowing our place in the family of things."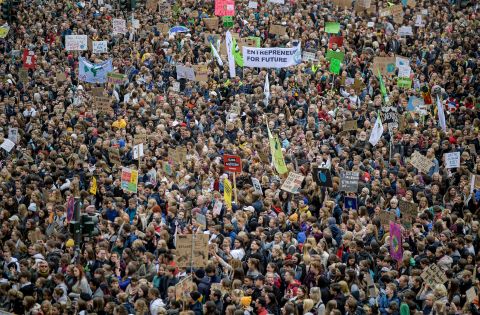 The wisdom of creation was on full display this past Friday.  Have you seen the pictures?  Did you march?  Millions of people—most of them young—marching for climate health.  Will we, like all those young people, listen to creation's wisdom?  Will we be no less and no more than who we are created to be?  Will we live as if our very existence depends on the diversity of creation and the interdependence of all life forms?  Will we settle into our own unique place in the universe?  Will we do what we can to act all of creation into wellbeing?
Regardless of what theme we name next week, creation is going to be the context.  The circumstances of climate change, the devastating consequences of unchecked consumption…any theme that doesn't factor in our suffering planet is going to be utterly useless. Several years ago, I heard the Massachusetts Conference Minister say, "Preach creation care once a month now.  If we don't do that now, circumstances will become so dire that we'll have no choice but to preach creation care every Sunday."  I think we're pretty close to that time.
So, here's your homework to prepare for next week: think about creation.  Think about its diversity.  Think about how all living things are interconnected.  Think about the universe as the context for anything we do.  Think about the connection between acting the world into wellbeing and acting Earth into wellbeing.  If it helps to do this thinking out in nature somewhere, go for it!
I'll leave you with a couple of quotes to inspire your homework.  Carl Sagan: "The nitrogen in our DNA, the calcium in our teeth, the iron in our blood, the carbon in our apple pies were made in the interiors of collapsing stars. We are made of starstuff."  Neil de Grasse Tyson:  "We are biologically connected to every other living thing in the world. We are chemically connected to all molecules on Earth. And we are atomically connected to all atoms in the universe. We are not figuratively, but literally stardust."
Last week during prayer time, Carol Austin-Janssen shared a vision she had during the silence that began worship.  "I saw a light cloud descending on the room…and it all turned into sparkles.  And I thought, 'Oh, God!  Just let those sparkles fall on everyone!'  And I can see those sparkles now!"  At that point, I mouthed to Marika, "Stardust."  Because today's theme is the cosmos, I already had asked Marika to play "Stardust" in today's service.  We are stardust.  We are connected to every living thing in the universe.  We are here to play our unique role in the whole of creation.  How will we live out that role in the context of this congregation?
Stay tuned…  (Play first verse and chorus of "Woodstock.")
Kimberleigh Buchanan © 2019